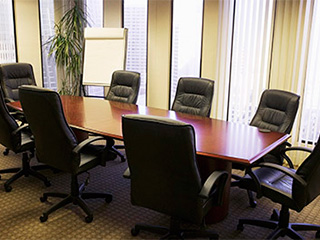 If you have a window that's wider than it is tall, a set of vertical blinds is a great choice. These window coverings are often used in living rooms and bedrooms where a large window provides plenty of natural light. They're also commonly found in offices, where they offer a perfect way to control glare and dazzling sunlight. With a massive selection of attractive designs, materials, and color options to choose from, custom vertical blinds could be an excellent addition to almost any room.
Choose Vertical Blinds For Your Home
There are many good reasons to choose vertical blinds for your property. Our designs feature an impressive array of different materials, including screen and blackout options to provide varying levels of natural light. You can pick from an impressive variety of colors. So whether you want a smart look for your meeting room or a cozy atmosphere in the bedroom, it's not hard to find. You'll also find vertical blinds impressively easy to operate, and a great way to cut down on unwanted light in any room.
Invest In Vertical Blinds For Office Windows
Offices are a great location to install vertical blinds. The natural layout of the vertical slats provides an excellent design in itself, and there are many ways to alter this. Wide slats give an impressive and smart-looking aesthetic, and when combined with our range of high-quality materials, this can create the perfect professional atmosphere. Custom vertical blinds are ideal for your Thousand Oaks office because they make it easy to reduce sun glare. Rather than getting a glare-induced headache throughout a long meeting, adjust your new vertical blinds to the desired position. By combining comfort, excellent design, and practicality, vertical blinds are the perfect fit for office windows.
Cover Sliding Screen Doors With Vertical Blinds
Another great use of our custom vertical blinds is to cover your sliding screen doors. These large apertures can often be hard to cover adequately, which means that homeowners often struggle to keep natural light at a comfortable level. This can often also compromise your privacy since neighbors and passers-by can easily see into your home. Use our custom vertical blinds to prevent this from happening. These window coverings provide an easy and effective way to shut out unwanted attention. Because they're easy to move out of the way, you won't find it hard to keep using your sliding screen door either.
Perfect For Patios
If you've got a backyard patio area with glass screen doors leading to it, you'll want to have the option to cover them up at will. Well, with vertical blinds, you can do that more effectively than with lateral coverings. The vertical vanes of these blinds serve us better for larger surfaces, which makes them the best choice for patio doors. They also work incredibly well for wall-to-wall windows, which is why you can often find them in various boardrooms.
Custom Vertical Blinds In Thousand Oaks
Vertical window coverings can serve as the perfect solution in many situations. If you have a large window that needs covering, or you're looking for a way to improve your office, get in touch with us. Our Thousand Oaks-based specialists are always happy to provide free, no-obligation consultations at your property. Why not see how vertical blinds could benefit you?