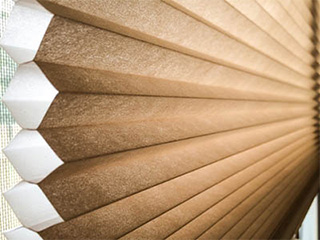 Cellular shades are a fashionable and durable window treatment for both homes and office spaces. They are available in a gorgeous palette of unique colors and fabric styles. These do not have slats like a traditional mini blind, so there's no risk of them breaking and ruining the look of your windows. They are also very easy to clean using a vacuum cleaner or a damp cloth. No dusting of individual slats is required.
The Childproof Option
Our cordless cellular shades can give you all of the light control and insulating ability without any of the hassles and safety concerns that come with dangling cords. If you have small children, this would be an excellent way to avoid the potential safety risks.
Fashionable and Durable
These affordable window treatments are a fantastic choice if you are looking for a product that provides not only color and decor but also some thermal insulation as well as privacy. Available in single and double cell construction, these cellular shades can help you maintain the desired temperature in any room they're installed in by keeping in warm air in the winter and cool air in the summer. If you live in a climate with extreme temperature shifts, double thickness shades are especially recommended.
Local Experts at Your Service
Don't stress and worry. If you're looking for new window treatments but can't make up your mind, all you need to do is get in touch with our experts here at Thousand Oaks Blinds & Shades. Simply arrange for a free consultation and one of our consultants will then visit your home or business at a time of your choosing. Our professional will help you find the perfect Cellular shades for your windows. Then, our blind installation team will take all the necessary measurements and return with your new custom-made shades.