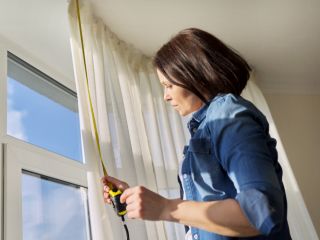 Welcome to Thousand Oaks Blinds & Shades, your go-to destination for all your window treatment needs in Thousand Oaks and the surrounding areas. We take pride in offering top-notch services, specializing in the repair and installation of window treatments, including custom drapes, curtains, blinds, and more. With a focus on quality craftsmanship and customer satisfaction, we're here to transform your windows into stunning focal points of your space.
Our Services:
1. Window Treatment Repairs and Maintenance:
Our experienced team understands the importance of well-maintained window treatments. Whether your blinds need a quick fix or your curtains require some TLC, we've got you covered. Thousand Oaks Blinds & Shades is your reliable partner for all your repair and maintenance needs.
2. Expert Window Treatment Installation:
When it comes to enhancing your home's aesthetics and functionality, professional installation is key. We excel in installing a wide range of window treatments, ensuring they fit seamlessly and operate flawlessly. Trust our experts to bring your vision to life.
3. Specialization in Somfy and Lutron Electric Brands:
As an industry leader, we're proud to specialize in Somfy and Lutron electric brands. These cutting-edge brands offer innovative solutions for automated and motorized window treatments. Enjoy the convenience of automated blinds and shades with our expert installations.
Our Products:
Custom Drapes: Elevate your home's elegance with tailor-made drapes that match your style and decor.
Blinds and Shades: Choose from a wide selection of blinds and shades, including vertical blinds, mini blinds, roller shades, and more.
Curtains: Find the perfect curtains that add a touch of sophistication to any room.
Plantation Shutters: Enhance your privacy and style with our plantation shutter options.
Wooden and Faux Wood Blinds: Achieve the perfect blend of aesthetics and durability with our wooden and faux wood blinds.
Why Choose Us:
Thousand Oaks Experts: We understand the local community's needs and preferences, ensuring we provide tailored solutions.
Quality Workmanship: Our skilled technicians take pride in their work, delivering results that stand the test of time.
Competitive Pricing: We offer competitive prices without compromising on quality, making luxury window treatments affordable.
Customer Satisfaction: Your satisfaction is our priority, and we go the extra mile to exceed your expectations.
Ready to transform your windows? Contact Thousand Oaks Blinds & Shades today for all your window treatment needs. Discover the perfect balance of style, functionality, and affordability with us.
Experience the Thousand Oaks Blinds & Shades difference today!