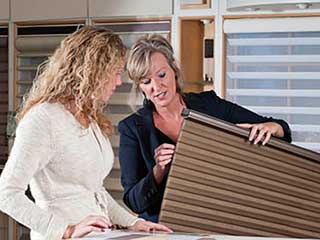 The need for privacy, natural light control, and low maintenance matters a lot when choosing new window coverings. There are many types of window treatments available in different colors and materials. You're sure to find something that will match and complement your interior decor, whether your final goal is to achieve a more contemporary look or a traditional one. Of course, choosing which window treatments to get is the hardest part. For this reason, we asked our experts to offer up some useful tips.
Think of Your Privacy Needs
The aesthetic of your new window shades is certainly important. However, it's often privacy that is the make-or-break decision regarding which type to choose. Venetian blinds, for example, are a good option overall for privacy. You can adjust the slats to be able to get an outside view without needing to open them completely. Certain types of shades, though, may leave your home exposed. Even when opened partially, some types can give an unobstructed view to those standing outside. This isn't always the case, of course. The type of fabric used and its color are the main influencing factors. But don't lose heart if you're not entirely sold on blinds just yet. Layered shades, for example, are another great way to maintain privacy. Their sheer fabric allows you a clear view of the outside world. However, you can easily adjust them to overlap with the darker fabric strips when you need complete privacy.
Controlling Natural Light
Having natural sunlight filter into your home can be great. However, you need to be aware of the damaging effects that UV rays can have on your furniture, carpets, and walls. Shades, if made from sheer or translucent materials, can be great for allowing light to stream in while also blocking that damaging UV radiation. It's important to strike a balance between allowing light in while filtering UV rays. Sheer shades, for example, come in different degrees of opaqueness, which offer different levels of visibility and protection.
Consider Maintenance Requirements
You can easily dust Venetian or vertical blinds and wipe them clean on a regular basis, so they're the easiest to maintain. Because they're mostly made of fabric, shades tend to require more specialized efforts, like using special vacuum cleaner attachments. If you're looking for professionals, make sure you get someone who can do a low moisture extraction to make sure that your shades don't get ruined from excessive water use. Honeycomb shades fall somewhere in the middle as far as upkeep is concerned. They can be washed in water with a little bit of detergent to remove stains. You can also clean them with a vacuum cleaner that has a brush attachment for everyday dusting.
For more information and advice, get in touch with our experts at Thousand Oaks Blinds & Shades today.