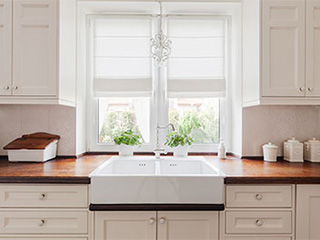 Because windows create openings in our homes that allow sunlight to pass through, they also permit us to see outside and for people outside to look inside. Because of this, it is important to have some form of covering placed over our windows, preferably one that can be easily drawn.
The Right Type For You
There are plenty of options to choose from, and the various types of window treatment options that are available today can make the buying process much more complicated than it needs to be. If you're looking for simplicity and beauty in a single package, there is a type of window treatment option that can be traced back to the time of ancient Pharaohs and a very famous empire. Can you guess what they're called?
Custom Made Roman Shades
These fabric shades are simple, elegant, and very functional at the same time. Pulled down, the fabric straightens out into a simple shade. Pulled up, however, the custom roman shades reveal their beauty through a series of evenly folded pleats that stack up one on top of the other in a very unique decor style that can really contribute to the layout of any room.
Made To Fit
By getting roman shades custom made, you ensure that you're getting the perfect fit for your glass door, kitchen, bedroom or living room windows. These window treatments are just excellent for residential usage. They can also be a great addition to any office, bringing a lot of style without costing a lot of money. You can choose from a variety of fabrics, designs, and prints, and our team is happy to provide free color samples too.
Our Team Is Here To Help
Upgrade the looks of your office or home with these appealing window coverings and see how you can very easily improve the layout of any room. Our experts at Thousand Oaks Blinds & Shades offer a free consultation, as well as a 5-year warranty on all our products. Contact us today to find the best-looking blinds for your home or business.