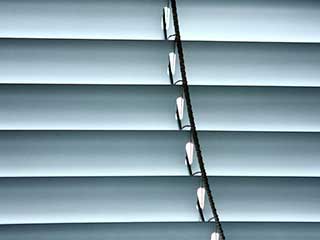 New window coverings for your residential or commercial property can have the style and features you want when you turn to Thousand Oaks Blinds & Shades. We'll be happy to walk you through all the options, so when you choose, you'll be sure you've made the right decision. One style that's spanned the years, and will never fall out of favor, is Venetian blinds. This type is excellent for mid-sized to small windows and comes in a variety of materials to match your needs. You can find out more about them below:
From Metal to Wooden Venetian Blinds
The right set of Venetian window treatments for you depends on what matters most to you concerning your new blinds! That's why our professionals are here to explain the pros and cons, listen to what you're interested in, and find what will best fit those desires. Metal and aluminum Venetian blinds are great for those with a budget, and who mostly care about keeping out the sun, rather than aesthetics. They're especially good for businesses! On the opposite end of things, if you're looking for something to attract attention and impress, wood Venetian window coverings are what you need! Faux wood is also an option for the same look without the higher price.
Thousand Oaks's Top-Quality Motorized Venetian Blinds
Manual strings for your window coverings can detract from the overall look, let them hang crookedly, and even be a hazard to kids and pets. However, you don't have to deal with them any longer thanks to motorized Venetian blinds! Instead, you can choose to use a smartphone or tablet with a connected app, remote control, or even wall sensors to adjust them with ease. Timer functions are available, so your Venetian window treatments will open and close according to your schedule without you doing a thing! You'll wonder how you lived without them so long.
Blackout Venetian Blinds Turn Your Living Room into a Theater
Whether you'd like to watch films and TV in movie theater-style darkness or want to sleep easier without light from outside creeping in, blackout Venetian window coverings are what you need. They come in various materials, so there's no worry of being stuck with one choice, and they will utterly block all outside light. Regular treatments may allow in a glow from the sun to still bother you, but not blackout Venetian blinds. Sleeping during the day thanks to a graveyard shift, or taking a nap, has never been easier for your Thousand Oaks home!
Excellent Venetian Blinds for Thousand Oaks Windows
Our blinds experts are ready to assist you in finding the perfect type of window treatments for your business or home. So why put it off any longer? We can go over our various Venetian blinds styles, or any other covering option you might find an interest in, with our free consultations and estimates. It's never been easier to spruce up your Thousand Oaks home or business with a brand-new look! Reach out to us today to get started by making a free consultation appointment on custom Venetian blinds and other window covers.