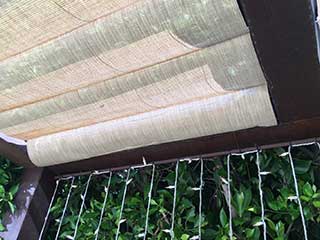 Keeping cool outside is important. If you can't keep the sun off you, you'll end up with sunburnt and overheated, an easy way to spoil any sunny afternoon. Most patios, courtyards, and gazebos offer little in the way of protection from sunshine, but our patio shades are the perfect way to avoid getting too much sun. Our products, from motorized patio shades to waterproof exterior coverings, are easy to adjust. Find out just how much these could improve your home by arranging a free quote today.
Low-Cost Outdoor Shades
Our high-quality exterior shades give you long-lasting reliability. All of our products use our high levels of quality control, guaranteeing a product you can depend on to work each and every time you need it. Our systems are also fully customizable. No matter what size of gazebo or courtyard you have, we can provide custom outdoor shades to fit. Arrange a free in-person consultation with our representatives so we can take accurate measurements, and give you a good idea of what we can do to help you.
Durable Waterproof Outdoor Shades
When you're relaxing with your friends, the last thing you'll want to feel is a spot of rain. Unfortunately, you can never predict when the weather will change, and what promises to be a warm summer's evening might turn out to be wetter than expected. Don't let this spoil your fun. Our custom waterproof outdoor shades provide you with protection against the elements. Your new waterproof outdoor shades will protect you, your guests and your furniture from the rain. This is a great way to make your patio usable anytime and is a smart investment. Our Thousand Oaks team will provide you with plenty of guidance, as well as free estimates, to help you choose the right new waterproof shades.
Thousand Oaks's Best Outdoor Sun Shades
With the right combination of material quality and opacity, you can have patio covers that offer you comfort and shading throughout the day. Even when the sun is at its harshest, our custom outdoor sun shades will provide a cool and shaded area for your patio, gazebo, or other enclosure. Sheer exterior shades can also filter sunlight to provide a reprieve from heat while also adding colorful shading to the area. This can create various ambiances that add to the style of your patio.
Motorized Exterior Shades
We design our patio shades to the highest specifications, ensuring they're as easy to use as possible. However, if you want the ultimate in convenience and comfort, then our range of custom motorized exterior shades is the answer you're looking for. All it takes to move these patio coverings is a press of a switch, and they'll adjust to exactly the required position. That makes it easy to open or close the shades without doing it all manually. Motorized patio shades could cost a lot less than you think. Why not get a free quote and find out today?
Fast And Professional Patio Shade Services In Thousand Oaks
Our team takes pride in giving you the best customer service around. It doesn't matter what type of patio shades you need, our Thousand Oaks team is always ready to provide in-home consultations and estimates. Get in touch today to see what we can do to improve your home.