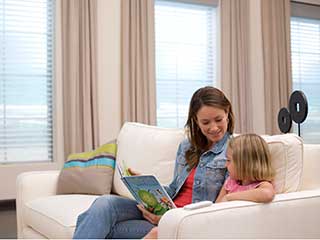 What could be better than a set of automatic motorized window blinds? Well, quite a lot of things if we're being honest, but if you came to this page then you're probably looking for blinds right now. Our Thousand Oaks motorized blinds installers offer all sorts of low cost, high-quality motorized blinds, and shades custom made to order. Motorized blinds run the gamut from simple remote controlled units to advanced networked blinds sets distributed throughout large buildings. Homes and workplaces are both less stressful, more comfortable, and easier to manage with some powered window blinds. From gym window walls to awnings and patio covers, motorized blinds and shades can add style and functionality to all sorts of areas.
Thousand Oaks Motorized Blinds Installers
It's always a good idea to consult with professionals in your area on the best type of blinds or shades for your windows. Whether for home or a workplace, motorized blinds have lots of utility to offer. But you also have a wide range of options, so it can seem hard to pick something at first. With help from our motorized blinds experts near Thousand Oaks, you can discuss all the features and materials you'd like to consider. From blackout features to smart remotes and sheer window covering solutions. Every option is viable for new motorized window blinds and shades. We offer our custom made covering solutions to both residential and commercial properties.
Benefits of Battery-Powered Blinds
Not having to walk around fixing every set of blinds every morning and evening is a headache. If you have a real lot of windows to take care of, it can even be a backache. Hand-drawn or wired blinds also pose a hazard to pets and very young children, thanks to the dangling cords or exposed cables. Finally, if you forget or don't have time to adjust your window blinds, the sun can wreck your air conditioning bill as well as your furniture. With wireless motorized blinds, you avoid all of these problems! There's little reason not to choose wireless motorized blinds these days. Getting battery-powered motorized blinds lets you quickly add automatic window treatments to any room, with a very short installation.
Wi-Fi Remote Controls For Motorized Blinds
"Remote control" doesn't just mean a handset you point from across the room anymore. Modern motorized blinds you can get for Thousand Oaks area properties support Wi-Fi control, which means you can adjust them from anywhere in the world in response to weather changes. If you put your motorized window blinds on a timer or – better yet – equip them with light sensors, you won't even need to do that! It might sound counterintuitive, but automatic motorized blinds can reduce your power consumption by reducing your need for AC and heating. That's all before we get into the possible furniture and wallpaper damage you're preventing or the additional benefits of solar-power blinds. There's no shortage of ways you can use motorized blinds to make life easier.
Window Blinds With Solar Panels
If you want to ensure that your motorized blinds pay back their price sooner rather than later, you want solar power. Since window blinds spend their whole day sunbathing, they make perfect mounting platforms for photovoltaic panels or strips. Solar-powered motorized blinds are environmentally friendly, budget-saving, and very functional as blinds. PV panels are blackbodies that necessarily absorb light, so they provide a blackout effect that makes them especially good for bedrooms and similar. Solar-powered motorized blinds let your Thousand Oaks property benefit from a reduced carbon footprint. Solar window coverings reduce your energy bill and maintain a green, eco-friendly solution to work as normal blinds.
Custom Motorized Blinds At Low Prices
Before making any purchases, you should take advantage of our free consultation appointments. We'll help you choose the best style, materials, and aesthetics for your new blinds, as well as the battery and control specs. After you've gotten your free quote and made the final decision, we start our US-based custom manufacturing process. Whether you're looking for a single set of faux-wooden motorized blinds for your living room or a whole office suite's worth of Venetian window treatments with remotes, we can build them! Give us a call today, and let us get started on your motorized window blinds and accessories. Services available to all nearby areas around the Thousand Oaks region.