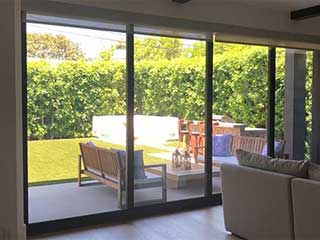 Find the perfect new sliding door blinds for your property. We offer an enormous range of different options, so you can easily find the window coverings you need. Are you after modern convenience? Then maybe you'd like to take a look at our motorized vertical blinds. How about long-lasting curb appeal? A set of custom wooden rolling shutters may be worth exploring. Find out more about our sliding door blinds, and arrange a free consultation at your Thousand Oaks property, by contacting our team today.
Affordable Rolling Shutters
Electric rolling shutters give you total control over your property. Simply control these shutters whenever you need additional protection from the outside world, using your remote control or even your smartphone. We offer a range of materials including real and faux wood. These give you lots of choices. So whether you want the authenticity of real wood or the practicality of faux wood, you can be sure of satisfaction. Get a free estimate for rolling shutters and sliding door blinds today.
Custom Motorized Vertical Blinds In Thousand Oaks
When you want to add convenience as well as great looks to your property, then motorized vertical blinds are the way to go. We offer a wide selection of different options, made from a variety of materials. You can choose everything from the color to the design of your new vertical blinds with simplicity during the free estimate consultation. Control your new blinds directly from your smartphone or with a remote control. You'll be surprised at how little these window coverings could cost, too. Why not get in touch today for a free quote?
Sliding Door Curtains Near You
Keep sunlight out and warmth in with our selection of custom door window curtains. You'll be amazed at the variety of different options available to you. We don't just offer a wide range of colors. We also provide you with many different styles, such as blackout curtains and drapes. Find the perfect curtains for your door window today by speaking with our Thousand Oaks-based sliding door blinds experts.
Cheap Patio Door Shades
Nobody wants to deal with unwelcome glare coming through their patio doors. There's an easy solution to this problem. Our custom patio door shades are the ideal way to prevent discomfort in your home, while also providing total privacy. Our made-to-measure window coverings guarantee long-lasting comfort, so your family and guests will always feel at home.
French Door Blinds For Thousand Oaks Homes
You can't afford to let glaring sunlight stream through your French doors constantly. That will lead to paint fading and can cause eye issues and migraines. Why not invest in some of the best window coverings around, and choose our high-quality French door blinds? Our top-quality range of blinds makes it easy to minimize dazzle, while also keeping prying eyes out of your home. Choose custom French door blinds from Thousand Oaks Blinds & Shades as the best way to improve your home.
Custom Blinds, Curtains & Shutters For Sliding Doors
Call us to schedule a free estimate on custom made coverings for screen doors and other large surfaces. We offer the best prices near Thousand Oaks for all sorts of sliding door blinds and other treatments.