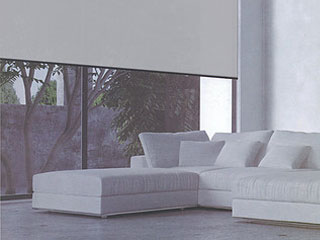 Roller blinds and shades are designed to filter out light and harmful UV rays while still keeping the look and ambiance of your rooms soft and welcoming. These window treatments are typically made from either vinyl or fabric so they are very easy to clean and maintain, much more than some of their counterparts. You can clean them with a vacuum or carefully wipe them down with a damp piece of cloth. Just be careful not to damage their structure.
Design and Structure
Modern roller shades are often designed with two types of coverings, the first layer is the slatted horizontal panels followed by a sheer fabric covering to add more privacy when the slats are open. Both the slatted panels and the fabric covering can be drawn up to allow a wider view of the window or can be adjusted to close to prevent light from seeping inside a space.
Just The Right Amount of Light
There are three types of roller shades that achieve varying degrees of light control; light filtering shades, darkening shades, and blackout shades. They can each work well in any room, including bedrooms, media rooms nurseries, and conference rooms. Of course, one type can be a better fit than the others for specific rooms with specific needs. Light filtering shades allow the most natural light to filter through, and blackout shades are the exact opposite, allowing the least, if any.
Custom Made vs Standard Size
One important thing to keep in mind when choosing roller shades is that they may leave a small light gap on either side of the shade in certain windows. To minimize the gap, you can adjust the mount, use a larger window frame, or complete the look of your windows with curtains. Another option is to get them custom made to fit. This will allow you to avoid this potential issue.
The Best Roller Shades In Thousand Oaks
Need some more information? Not a problem. Simply give us a call or schedule an appointment online. One of our consultants can come to your home, free of charge, and present you with a range of options. Our team is happy to help you determine which type of shade is the best fit based on the amount of light you desire. You won't have to set them up yourself. After measuring your windows, our installation crew will return with your new roller shades. Count on us to make sure they are perfectly placed over your windows.