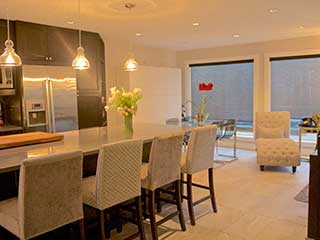 Want to control the ambient light inside your home or office with the push of a button? Then our motorized shades are the perfect choice for your property. This type of window treatment is a great way to not only add functionality to any room but to also add an almost futuristic decor as well. Because these window treatments can be custom made, they can be an excellent fit for windows of various sizes and heights.
Modern Technology For Extra Convenience
We all lead busy lives, so why not simplify things whenever possible? Especially when it's affordable to do so. Forget about going around your home lowering the shades just so you can sit down and watch TV. no longer will you have to start raising them manually each and every morning. Once you motorize your shades, you'll be able to open and close them with the click of a button, without leaving the comfort of your bed or favorite armchair. But that's not all! If you choose the timer option, your shades will open and close at a time of your choosing without you even having to lift a finger.
Protect Your Property and Save Money
Did you know that your belongings can lose their original color and become damaged by being exposed to direct sunlight for extended periods of time? Motorized shades can protect your furniture, books, carpets, and paintings from sun bleaching no matter how high your windows are or how hard they are to reach. Motorized shades can be programmed to match the movement pattern of the sun so they lower to block sunlight during the harshest hours, keeping your home cooler in the process, and saving you money you'd otherwise spend on your heating and cooling costs.
Swift and Reliable Installation
All you need to do is decide on the patterns and colors of the motorized shades you want to be installed. After our representative explains all the different options available to you and takes precise measurements of your windows, our installation team will return with your custom made blinds and set them up for you in a very short amount of time. After the installation, our professionals will give them a test run to make sure they're working like they're supposed to from day one. Thousand Oaks Blinds & Shades is ready and willing to provide all the information and advice you need and to answer all your questions. Contact us today to schedule a free consultation.