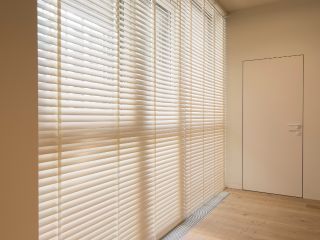 Transform your Thousand Oaks home or business with the finest window treatments available. At Thousand Oaks Blinds & Shades, we take pride in offering a wide selection of premium faux wood blinds and wooden blinds. Explore our extensive range, professional installation services, and expert guidance to elevate your interior spaces.
The Benefits of Faux Wood Blinds
Faux wood blinds are a fantastic choice for their timeless appeal and practicality. They provide the warmth and natural wood grain look you desire. When compared to other window treatments, faux wood blinds stand out for several reasons:
Durability: Resistant to moisture and temperature changes, they are suitable for both indoor and outdoor use.
Affordability: Achieve the luxurious look of real wood at a fraction of the cost.
Easy Maintenance: Wipe them clean for a fresh, new appearance.
Customization: Choose from a wide range of colors and styles to perfectly match your interior.
Energy Efficiency: Enjoy improved insulation, reducing heating and cooling costs.
Free Consultation and Installation
Selecting the right window treatments can be a challenging task, but we're here to help. Thousand Oaks Blinds & Shades offers free consultations to assist you in making informed decisions. Our expert installation ensures a perfect fit, making your space uniquely yours.
More Than Just Faux Wood Blinds
While faux wood blinds are our specialty, we also provide various other window treatments to suit your needs. From traditional wooden blinds to woven wood blinds, we have your windows covered.
Choose Thousand Oaks Blinds & Shades
Elevate your space with premium faux wood blinds.
Expert advice to help you make the right choice.
Installation services to ensure a perfect fit.
Motorization options for modern convenience.
A wide range of colors and styles to match your interior.
Top brands like Somfy and Lutron for automation.
Transform your Thousand Oaks space with our premium faux wood blinds. Contact us today for a free consultation, expert installation, and advice on choosing the perfect window treatments for your residential or commercial space. Make your space uniquely yours with Thousand Oaks Blinds & Shades.