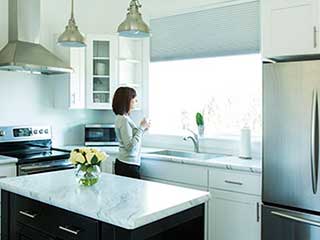 Our team is dedicated to helping every local home and business owner find the perfect window coverings for their property. Whether you're looking for sleek, modern aluminum blinds or the effortless convenience of motorized roller shades, our wide range of products is bound to contain an option that suits your needs perfectly.
A Vast Range Of Window Treatment Options
Our company offers a stunning range of options to suit any home or business establishment. Our experts understand how important it is to find the perfect match for the décor of every room, so as not to create an eyesore or an interior design faux pas. That's why all of our products are available in a range of styles and finishes that can fit different rooms and different needs. If you're looking for a natural, cozy ambiance then our wood and faux wood blinds might well be perfect for you, while our layered shades provide excellent privacy in any room they're installed in.
Our In-Depth Design Process
All of our blinds and shades are custom-made to the dimensions of your windows. Our experts don't just show up to measure them, though. Oh no. Our team offers a depth of expertise and experience you need to find the perfect window coverings for you. During the free, no-obligation consultation appointment you schedule with us, our experts will sit down with you to go over your options, make recommendations and answer any questions you may have. This is a great opportunity for us to provide input in the design process, and we're often able to suggest enhancements and alternatives that guarantee satisfaction.
Our High Quality Products
As one of California's leading window treatment dealers, our team can meet the needs of every customer. Whether you're interested in motorized drapery or solar blinds, all of our window coverings are sold with a 5-year warranty to give you peace of mind. Our company knows that our blinds and shades are the best on the market, and what better way to demonstrate our confidence in their quality than an extensive warranty?
Find Out More Today
For all your window treatment needs, Thousand Oaks Blinds & Shades has the expertise you need and the high quality products you want. No matter whether you're redecorating a holiday home or controlling natural light in the office, our experts will guarantee you receive a product that's perfect for your needs. Schedule an appointment online and let our experts help you find the best blinds for your property.
Contact Us Today!

Five Year Warranty

Free Consultations – No Obligations

Custom Made-to-Measure Products

Professional Installation Services