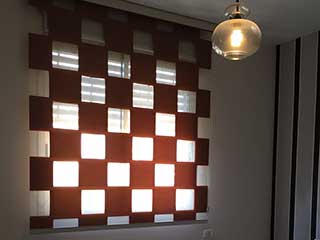 How can one best describe modern sheer shades? Great looking, versatile and extremely functional, that's how! Their construction involves fabric vanes that are set among two layers of another fabric which is perfectly sheer. The result is a fabulous combination of visibility and privacy.
Quality Is The Name of The Game
Our company can give you a wide selection of models to choose from, including top name brand products made from the highest-quality materials. Cheaply made coverings will not last very long and will be liable to tear or break very easily. You can have perfect peace of mind about the operation and durability of our sheer shades thanks to our 5-year warranty.
Choose the Best Modern Blinds for You
Thanks to the smoothly working mechanism of our sheer shades, you can set the position of the vanes in line with your preferences. You are the one who decides how much ambient light to let into the room and what level of privacy is perfect for you. You can expect reliable performance from these window treatments and can count on them to last a very long time. Maintenance is a breeze too. You can wipe them clean easily and quickly with a piece of cloth.
Consult With Our Experts
There are numerous design options when it comes to sheer shades so you will certainly find a model that matches the setting of your home or office perfectly when you take a look at our vast collection. The choice of colors is just as abundant. Our experts at Thousand Oaks Blinds & Shades are here to help you make an informed decision. You can opt for soft ones or for a combination of lighter and darker ones. The best part is that you can get the size fully customized too. Whether you have very large or particularly narrow windows, you're guaranteed to get the perfect custom blinds to match them when you get in touch with our team. Our company offers silhouette door coverings as well for your patio glass door.