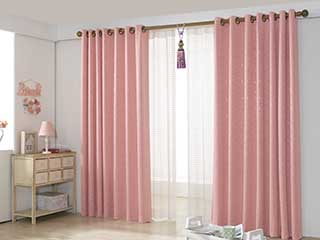 Soft furnishings have been a go-to choice for homeowners for a long time. This isn't just because they're an excellent window covering, providing privacy, insulation and noise control. It's also because they look great, and are perfectly suited to a huge range of different designs and styles. Custom curtains and sheer or blackout drapes are a great way to improve any room. Motorized drapes and curtains are also a great addition that adds not only decor but also convenience.
Drapes Vs Curtains
Most people use the names drapes and curtains interchangeably. It's not hard to see why. Both are made from soft material, are hung in exactly the same way, and provide many of the same benefits. However, the difference between curtains and draperies lies in the heaviness of the material. Curtains are more decorative and lightweight. They obscure light and help disperse dazzling rays, but won't prevent all light from coming through. Drapes, on the other hand, are made from much heavier material. They'll block all light entirely, and are often used in bedrooms and living rooms.
Curtains And Valances Sets
A perfect way to tie any room together is to invest in a matching set of curtains and valances. Sets which are custom built to your specifications can be supplied to make any room look fantastic. These are an ideal way to put your own stamp on the living room, dining room or bedroom. Available in a range of designs and fabric types, matching curtains and valances should be high on any interior redesign list.
Blackout Curtains For Bedrooms Windows and More
When you really need to make sure light doesn't get through, blackout curtains make for the perfect solution. Created from a dense material that totally prevents sunlight from getting through. These room darkening curtains are ideal window coverings for bedrooms. They're great for when you don't want to be woken up by the sun's rays in the morning. They are also excellent for when you want to be totally sure no-one can see in through the windows at night. If you've got sliding glass doors, blackout curtains and/or drapes can also fit them great. In addition to blocking sunlight, they also provide privacy.
Motorized Drapes With Sensors and More
By fitting a motor to your custom drapes, you can open up a whole world of modern convenience. These systems allow you to quickly and effortlessly draw your motorized drapes, no matter where you are. You could be in bed on a Sunday morning and let the light come streaming in without leaving the sheets. You can also have your bedroom drapes alter position while you're away on vacation, making it seem like someone is still there. This helps keep burglars away and is a great security benefit of motorized drapes. Brightness and temperature sensors can be added to make your motorized curtains and drapes adjust themselves accordingly.
New Custom Window Treatments For Thousand Oaks
You have access to hundreds of different styles and designs when choosing drapes and curtains. From custom valances to drapery rods, you'll find everything you need to upgrade any room. Simply get in touch today to arrange an appointment.