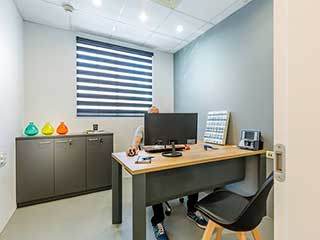 Any commercial establishment that relies on the business that visiting customers bring needs to create a welcoming environment. There's no better way to do that than with natural lighting and beautiful interior decor. Even if your office space doesn't see a lot of new faces and only regular employees, you can still benefit from modern window treatment options. There are all sorts of window blinds and shades that can help you promote employee productivity, which is something that every business owner should care about.
From Traditional to Innovative
There's a wide range of product available for you to choose from. Conforming to the traditional approach and going with something like vertical blinds, for example, is safe and will certainly ensure productivity. But there is also some merit to going against the grain. With so many unique design options, you can really make a room stand out.
A Wide Range Of Choices
On one hand, you've got motorized roller shades that offer functionality and convenience. On the other hand, bamboo or faux wood blinds seem to be all the rage when it comes to decor. But you have more than two hands when it comes to window treatments, metaphorically speaking. There are so many different choices you're bound to find something that will match the style and atmosphere inside your office. An out-of-the-box approach will usually make a business more appealing to customers. It can also make employees feel more energized. There are many ways for businesses to conform to or to break traditional aesthetics and one of the simplest yet very much rewarding methods is the use of custom window blinds and coverings of unique designs.
The Eyes of Your Business
The windows are an integral part of any commercial or residential property. Most hotels, restaurants and office buildings, or other business establishments, often rely on the infusion of natural lighting to create a pleasant indoor atmosphere. Windows can often make up a majority of the wall space of any given commercial establishment, especially outward facing ones. Because of this the coverings that you place on them serve as an opportunity for you to convey a certain class of style and professionalism.
Unique and Diverse Options
For a versatile look, you can use fabric coverings, like pleated Roman shades or layered ones. These come in a variety of colors, shapes, sizes and with even rolling or draping mechanisms. You can choose simpler ones to maintain a business-appeal and a minimalistic approach. You can also make the place cozier with more home-like designs that also improve energy efficiency. Cellular shades would be an excellent choice for that.
Consult With Our Experts
From elegant to simple and homey, regardless of what type of vibe you're trying to create, our experts can help you achieve it. Our team here at Thousand Oaks Blinds & Shades knows exactly how to match every customer with the perfect blinds for their commercial business, from small office spaces to large conference halls. Get in touch with us today to set up a free consultation appointment.