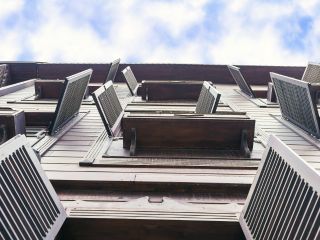 Welcome to Thousand Oaks Blinds & Shades - your trusted source for premium plantation shutters and window treatments in Thousand Oaks and the surrounding areas. We take pride in enhancing the aesthetics and functionality of your residential and commercial spaces through our exceptional products and services.
About Our Plantation Shutters:
Why Choose Plantation Shutters?
Plantation shutters are a timeless and versatile window treatment option that offers numerous advantages compared to other window coverings. Here are some key benefits:
Elegance and Aesthetics: Plantation shutters add a touch of elegance and sophistication to any space, elevating its overall look and feel.
Light Control: You have full control over the amount of natural light entering your space, providing privacy and glare reduction while preserving your view.
Energy Efficiency: Our shutters are designed to insulate your windows, helping to regulate indoor temperatures and reduce energy bills.
Durability: Crafted from high-quality materials, our plantation shutters are built to last, ensuring long-term value for your investment.
Easy Maintenance: They are easy to clean and maintain, making them a practical choice for busy households.
Customization: We offer a wide range of customization options to match your decor, including colors, materials, and styles.
Motorization with Somfy and Lutron:
Experience the ultimate convenience with motorized plantation shutters. We partner with industry-leading brands like Somfy and Lutron to provide you with cutting-edge automation technology. Easily control your shutters with a remote, smartphone, or voice command, offering you both luxury and efficiency.
Free Consultation:
At Thousand Oaks Blinds & Shades, we understand that choosing the perfect window treatment can be overwhelming. That's why we offer free consultations. Our experts will visit your home or business, listen to your needs, and provide tailored recommendations. We'll help you explore various options, whether it's plantation shutters, blinds, shades, or other window treatments, ensuring they seamlessly fit your space and style.
Discover Our Window Treatment Solutions:
Whether you're looking to enhance the aesthetics of your home or improve the functionality of your commercial space, indoors or outdoors, our wide range of window treatments has you covered. From classic plantation shutters to modern blinds and shades, we have the perfect solution to meet your needs.
Get Started Today:
If you're searching for "plantation shutters near me" or "quality blinds and shutters in Thousand Oaks," look no further. Contact Thousand Oaks Blinds & Shades for a free consultation and let us inspire you with window treatment ideas that transform your space. We take pride in serving Thousand Oaks and the neighboring communities, helping our clients achieve their vision of beautiful, functional window treatments.
Enhance your Thousand Oaks property with exquisite plantation shutters and window treatments from the experts at Thousand Oaks Blinds & Shades. Experience the perfect blend of aesthetics, convenience, and energy efficiency. Contact us today to schedule your free consultation and embark on a journey to elevate your space.