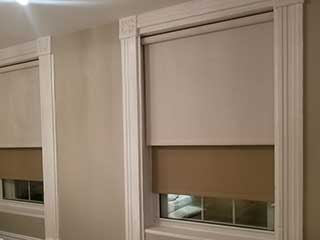 Make any room fully protected from bright sunlight using our amazing blackout blinds. At Thousand Oaks Blinds & Shades, we're proud to say that we offer the best blackout window treatments around the Thousand Oaks area. But that doesn't mean we charge top dollar for them. Our made-to-measure blackout blinds fit in any room and are suitable for any window of any size. You'll get to choose from dozens of amazing materials, designs, and colors, so it couldn't be easier to find the perfect match for any home or business. We offer no-cost, no-obligation consultations throughout the surrounding area. Go ahead and book your free appointment today.
Excellent Prices On Custom Blackout Blinds
If you want to improve your home, choosing high-quality window coverings is one of the best ideas you can have. You can easily turn any room into a bright, spacious-feeling area when you install the right blinds. We offer many years of know-how, and our Thousand Oaks-based blinds experts will make sure you get all the help you need when picking out your new blackout blinds. If you're trying to decide on the perfect blackout blinds for French doors, then you won't have to look far to find the right combination of style and functionality. Schedule an appointment with our experts today.
Improve Any Room With Blackout Window Treatments
One of the most popular ways to improve a home is with blackout blinds for bedroom windows. In many properties, your bedroom doesn't get quite as much privacy as you really need. This could be because your bedroom windows look out over a brightly-lit street, or because your neighbors' windows overlook your own. Whether you need to keep out bright light or nosy neighbors, our window coverings are more than up to the task. The same applies to any other room in the house. Get full coverage by installing blackout blinds for skylights, so you can comfortably prevent the overhead sunlight from streaming in. Of course, any of our window coverings can be combined with remote control technology, and our cheap motorized blackout blinds are an amazing way to add 21st-Century convenience to any home. Find out more by calling us today.
Cheap Blackout Blinds For Your Thousand Oaks Office
Amazing window coverings aren't only a way to improve homes. Any workplace can be improved by installing custom blackout blinds, too. There are many benefits. For instance, blackout blinds prevent sun streaming in during hot summers, making it easier to keep temperatures comfortable without running the A/C any harder. They also keep eye-strain and headaches to a minimum, allowing employees to be more productive. Our amazing range of high-quality blackout blinds for office windows gives you an easy way to design attractive, highly professional-looking window coverings for any office environment. Find out about our low prices by contacting our Thousand Oaks-based team today.
Get Free Quote On Blackout Blinds & Shades
To improve any room in any building, consider choosing custom blackout blinds to get the shading solutions you want. Don't settle for anything less than the high standards that we here at Thousand Oaks Blinds & Shades have to offer. Start customizing the perfect blackout blinds for your Thousand Oaks bedroom or office today by contacting us to schedule a free estimate.