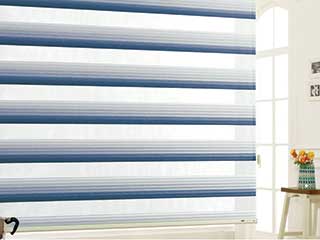 Do you want to create an absolutely unique and totally cozy setting indoors? Then you should definitely consider adding zebra blinds to your home or office windows. What makes them special is the alternation of lighter and darker vanes. This allows a sufficient amount of ambient light to enter the room in question while you retain a high level of privacy.
Their Unique Design
These layered shades consist of a special design pattern that uses horizontal lines with two contrasting vivid colors that can help bring natural lighting to any type of living or work environment. This special design leads to the creation of different light patterns, depending on how the shades are adjusted. This grants privacy and natural lighting simultaneously, by allowing light to enter but not to leave, thus making sure that you can enjoy the sunlight without compromising your privacy. Of course, these window treatments can also be set to block out sunlight more significantly, which is an optimal setting for those times of day where UV radiation is especially high.
Lots Of Design Options
Apart from privacy, these window treatments can really add a touch of modern charm to every decor, and will significantly contribute to the look and appeal of any room they're installed in. Our company has a wide selection of models to offer you, made by the industry's major brands. You are bound to find a model that complements your interior design.
A Perfect Fit
There is a huge range of designs and color combinations for zebra blinds. There are many different light filtration options too, to make them more suitable for specific areas of your house, like dens, bedrooms and living rooms. If you have windows of unusual sizes, don't worry. Our team can customize the blinds to perfectly fit your windows so that you won't have to deal with light coming through from the sides or the bottom.
Durability and Longevity
You can expect your new zebra blinds to last for a long time as all our products are made from materials that are resistant to all kinds of damage, including UV rays. You should not worry about fast fading and brittleness. All of the window treatments that our team provides come with a 5-year warranty. You can expect to enjoy their functionality and beautiful design for a long time to come. Our representative will come to your home or business for the free consultation appointment, and after you choose your new blinds and our experts will take precise measurements of your windows, our team will return with your new window treatments. Then, the installation process will begin. Count on us to make sure your new shades are fully functional from the very first day.